---
neue Generation Mattentrennwand 2023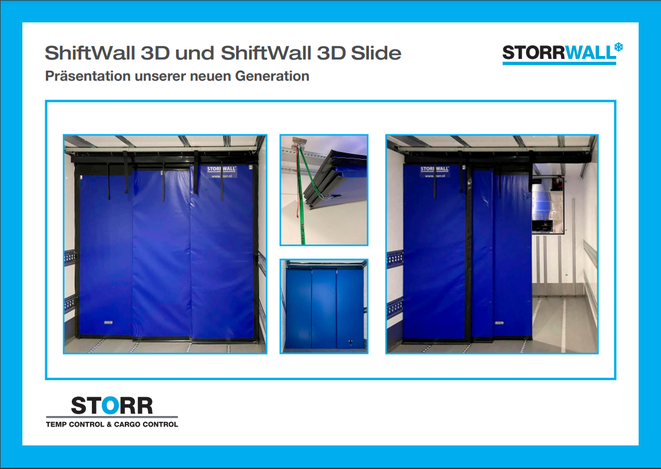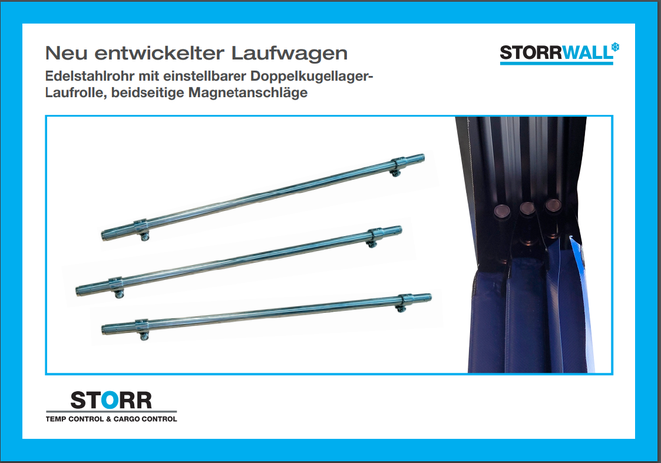 Verbesserungen und Funktionen:
- Magnetverschlüsse: sowohl die Laufschlitten als auch die Paneele werden mittels Magnet 
  Anschlägen gesichert.
- Verschiedene Ausführungen lieferbar Die ShiftWall ist lieferbar in 2-,3-und 4-teiliger
  Ausführung und ist somit flexibel einsetzbar für alle Anwendungen in der Distribution 
  temperaturgeführter Ladung.  Die Paneele sind verschiebbar und können hochgeklappt werden.
- Seitwärts verschiebbare Paneele Voreinander sind die Paneele nach links und rechts 
  verschiebbar, für maximalen Durchgang in jeder gewünschten Konstellation.
- Verschiebbar in Längsrichtung Die ShiftWall in der Slide-Version kann mithilfe des
  stabilen, aber leichten Laufwagens in der STORRWALL Laufschiene vor und zurück 
  bewegt werden. Nach Absprache ist diese Funktion auch in vorhandenen Laufschienen anderer 
  Anbieter möglich.
- Abdichtung Der Laufwagen ist oben und unten mit einer   ausreichenden Abdichtung versehen, so
  dass eine maximale Isolierung erreicht wird.
- Maximale Höhe Der weiterentwickelte Laufwagen ist kompakt, wodurch sich eine 
  maximale Aufbauhöhe von nur 69 mm unter dem Dach ergibt.
- Axiallüfter Optional kann in den 40 mm starken Wänden ein Lüfter eingebaut
  werden, der für eine kontrollierte Temperatur im angrenzenden Ladebereich sorgt.
Für weitere Informationen senden wir Ihnen gerne unseren Flyer Stand 08_2023 zu.
Auch im Download Bereich verfügbar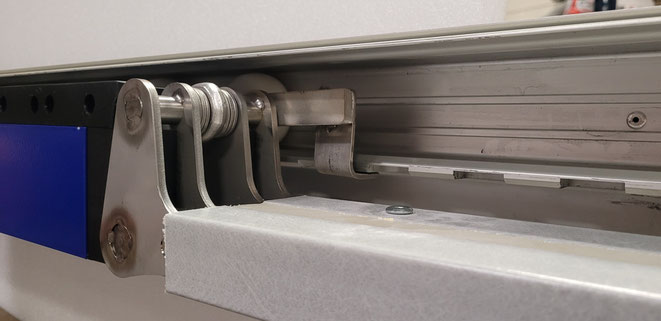 Als Erweiterung im Anwendungsspektrum ist die AUTOSTORR Trennwand ab sofort auch passend für die neueste Generation der Schmitz Cargobull Kühlsattelauflieger mit 
Trennwand Vorbereitung lieferbar. Die Laufrädergeometrie und die Verriegelung greifen in die original vorhandene Fahrzeugstruktur.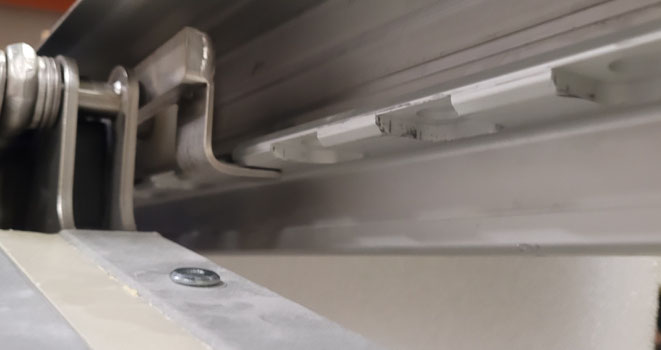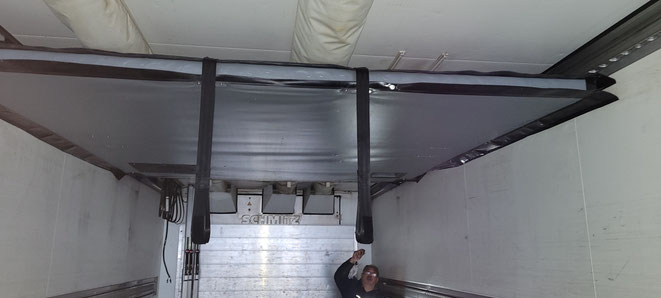 Damit ist eine Nachrüstung schnell und einfach möglich, ohne zusätzliche Schienen zu installieren.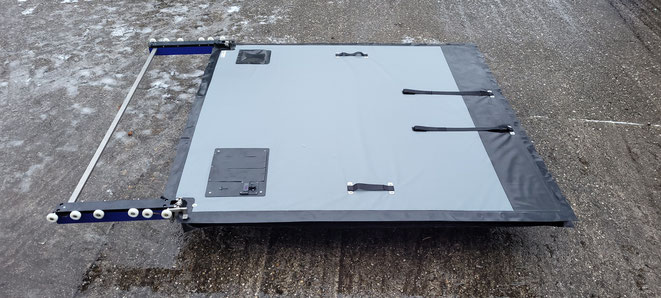 Das Leichtgewicht unter den Trennwänden mit Gesamtgewicht von nur ca. 65 KG incl. 
Hebeeinrichtung und extrem robust im Einsatz durch integrierten GFK Rohrrahmen im Paneel integriert.
---
Online supermarkets are on the rise. The successful picnic group relies on partition walls from STORR when equipping its vehicle fleet.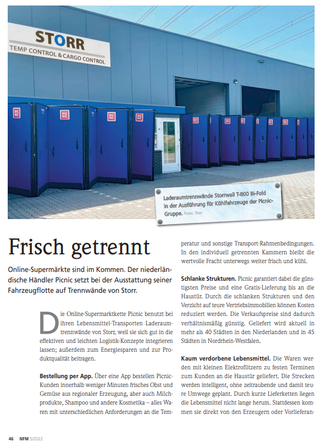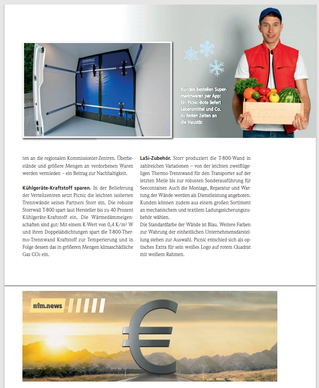 Report from the current NFM issue 05/2022
---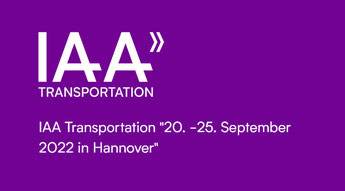 We exhibit: Visit us in September at the IAA in Hanover in the period 20.-25. September. You can find us in Hall 27 Stand E 26

We look forward to welcoming you again after almost 4 years
---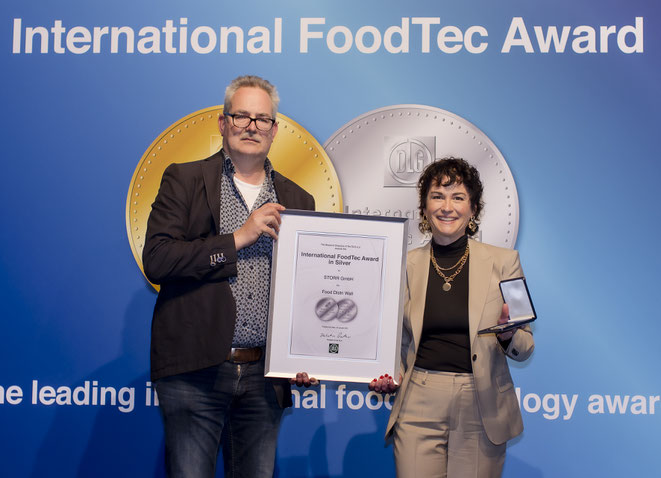 Preisverleihung auf der Anuga Food Tec in Köln am 26.04.2022 
International FoodTec Award for STORR
DLG Food Technology Award for pioneering development in terms of innovation, sustainability and efficiency - Award ceremony at the Anuga FoodTec in Cologne
 (DLG). Big stage for STORR GmbH from Stadtlohn. The company was presented with the International FoodTec Award in Silver yesterday evening in Cologne. The prestigious technology prize awarded by the DLG (German Agricultural Society) and its professional partners was presented last year by an international jury of experts. The award ceremony, however, took place only now at Anuga FoodTec, the International Supplier Fair for the Food and Beverage Industry, in Cologne. DLG Vice President Prof. Dr. Katharina Riehn presented the certificate and medal. The International FoodTec Award was presented to 20 innovation projects from the international food and supplier industry. Five innovations received the International FoodTec Award in gold, fifteen were awarded a silver medal.
Quelle: DLG Media Service 27.04.2022
---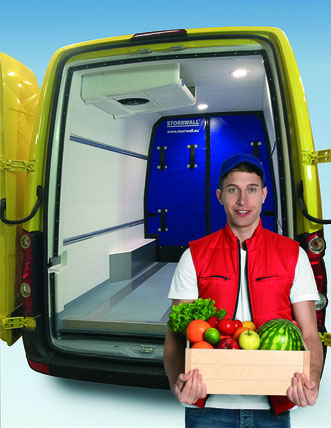 Aktueller Beitrag
KFZ Anzeiger Nr. 11/2021
zum Schwerpunkt Thema:
City Logistik
"COOLE" LÖSUNGEN
STORR. Der Hersteller von innovativen Trennwand-Lösungen bietet maßgeschneiderte Systeme für anspruchsvolle Transporteinsätze auf
der letzten Meile.
Der komplette Bericht von Seite 35 siehe unten.
Powr.io content is not displayed due to your current cookie settings. Click on the
cookie policy
(functional and marketing) to agree to the Powr.io cookie policy and view the content. You can find out more about this in the Powr.io
privacy policy
.
---

International FoodTec Award 2021
in Silver for STORR
DLG Food Technology Award for pioneering development in terms of innovation, sustain-ability and efficiency, (DLG). STORR GmbH from Stadtlohn (Germany) has now been awarded the International FoodTec Award in Silver by the DLG (Deutsche Landwirtschafts-Gesellschaft - German Agricultural Society) and its specialist partners. 
International FoodTec Award in Silver for:
With its Food Distri Wall partition wall system, STORR has developed a new concept for the distribution of fish, chilled and deep-frozen goods that minimizes the opening time and is able to adjust the cargo area to be cooled as the cargo volume decreases. When the Distri Wall is used, the swing door automatically seals the cooled cargo area again after passing through. This significantly reduces energy consumption and supports the guaranteed observance of the cold chain. Thanks to the independently closing partition wall system, less moisture also enters the chiller or freezer segment, thus minimising ice formation. The system is easy to position due to the low weight of the partition wall, the user-friendly folding system and flexible Velcro strap fastening. The Distri Wall is a very good solution for distribution traffic but is also outstandingly suitable for permanent installation at all sluices and interfaces in refrigerated warehouses.
Silver medals go to products that have been further developed in such a way that a significant improvement in the function or the process is achieved as a result.
For additional information, go to:www.foodtecaward.com
---
Innovation Trailer Award 2019
developmentproject ERGOWALL together with bodybuilder Lamberet
The new multi-temperature partition system received the Trailer Innovation Award at the IAA in the Component category. 
More ergonomics for the driver thanks to the new Insulation wall partition. The very
easy-to-use partition has an automatic locking mechanism, which are available in both closed and in the open position.
This partition is made of completely new, light and resistant materials, such as new impact-resistant surfaces , as well as an inner insulation made of rigid foam
Shape memory manufactured. That means 100 kg less weight!
These are only 2 innovative improvements - within our AUTOSTORR chapter you will find more details and informations.
---